Remote monitoring
Protectas provides the best security technologies, such as video surveillance, as part of its 24-hour alarm centre. Our remote services include alarm checks, virtual patrols, site/object surveillance, access control and door opening, response to perimeter detection, etc.
Alarm and video surveillance centre
Faultless security thanks to professional alarm management
With its professional alarm centre, the Security Operations Centre (or SOC), Protectas guarantees a rapid response to alarms. This is provided by two SOCs in Geneva and Zurich with qualified staff who will take action based on an intervention plan agreed with the customer.
In addition to this core activity, the alarm centre also provides a full range of services based on remote monitoring, to guarantee security from a distance.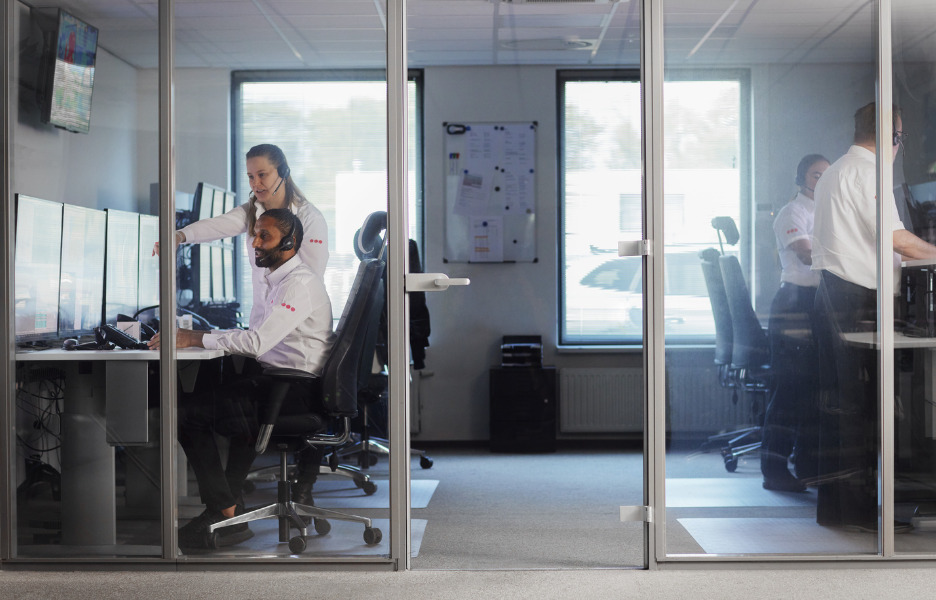 What does an alarm centre do?
Reception of alarm criteria and video signals
Management of alarms in the event of an incident in accordance with defined and validated procedures (alarm monitoring, video connection, triggering of response services and/or emergency services)
Receiving alarms from any manufacturer
Sending full reports


The 3 key advantages of our central alarm systems
Remote security services that combine human intervention with the use of innovative technological tools such as cameras or intercoms
Better prevention of on-site incidents: fast, effective remote surveillance, optimising the cost of human resources
National coverage: 2 SOCs (Security Operations Centres) in Geneva and Zurich, in the 3 languages of Switzerland + English


Standard alarm protocol
Live viewing, 24/7, by SOC operators of captured images based on the action plan we established with the customer
Immediate intervention via loudspeakers on site
Triggering of our response services
Police called in if the alarm is confirmed
Expert operators in our alarm control centres (SOC)
Operators working 24/7 in our 2 SOCs, managing over 3,000 alarms every day and answering calls in French, German, Italian, and English.

Operational managers in constant contact with operators
Specially trained operators: validation of an Eduqua alarm centre operator certificate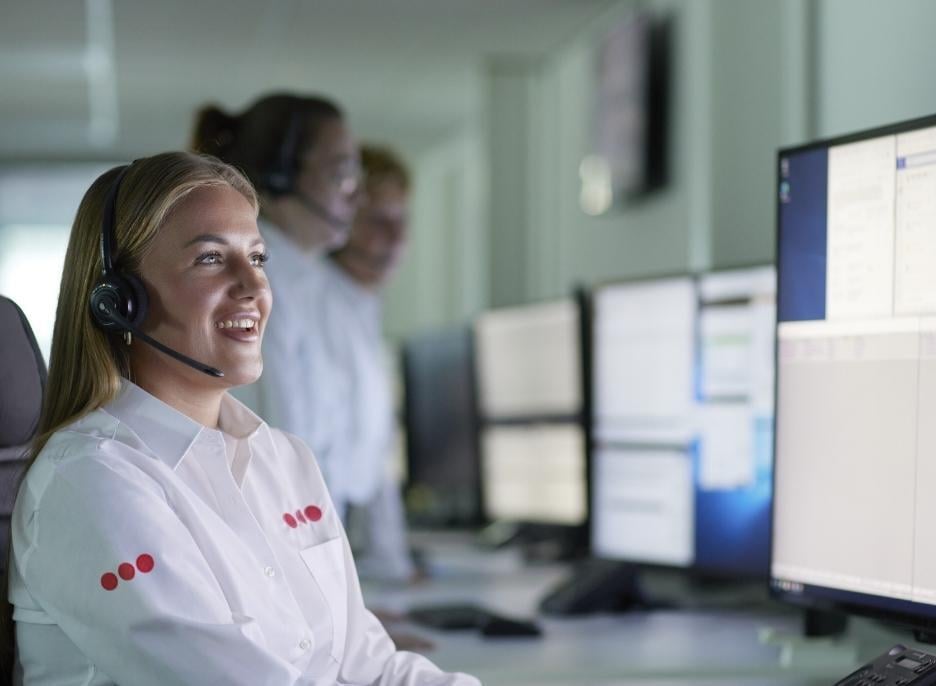 Quality of service at all times
ISO quality standard 9001 and response to EN 50518-1-2-3 criteria.
Optimal redundancy: our two SOCs, based in Geneva and Zurich, are built on the same model, each acting as a back-up for the other. Our IT infrastructure means that we can operate at any time with just one of the two control units.
Continuity of operations: our UPS (uninterruptible power supplies) provide us with a continuous, uninterrupted supply of electricity. They are also redundant, meaning that one of the two inverters can fail, for example during power cuts, without affecting the surveillance activity.
Electricity autonomy: all our battery racks can supply us with electricity for more than 24 hours. After that, we have generators that can be used to supply power.
Reliable and traceable operational and administrative procedures
Each new site that is linked to the alarm centre requires their operational feasibility to be validated and specific documents to be established.
This process ensures that all the variables necessary to maintain the quality of our services have been entered and checked. We ensure that there is traceability and recording of all SOC information and actions.
An open system that integrates with a wide range of manufacturers
Here are the remote management protocols accepted by our SOCs:
Alarms: Chiron (SIA 2, COID, scantronic), RSI Videofield (with/without video), Jablotron (with/without video), Swissdotnet (encrypted DC-09 standard), DC-09 (SIA/Contact ID IP encrypted), SPC (Siemens EDP), AlarmNet (TUSNet), VDS (Abus), Viewcom (without video)
Video*: Dahua, Axis, HIKVision, Nuuo, Milestone, IPS, SiNVR, Digieye, Avigilon, Seetec, Genetec
*Functions available for each protocol, available from our SOCs.
All alarm centre services
Surveillance of objects and sites
For optimum protection of homes and business premises, it is essential to connect your alarm system to our Security Operations Centre (SOC) for alarm processing. Each time an alarm is transmitted, an operator immediately takes charge of the event. He/she analyses the cause and, once suspicious action has been confirmed, a security guard and/or the police are called out.
Real-time remote alarm verification
If there is an alarm, our operator uses the cameras to look at the area and intervenes by activating the loudspeakers and, if available, the spotlights.
In many cases, a voice questioning them can put the intruders to flight.
Key benefits
Rapid action: instant intervention by operators, simultaneous coordination of callout (security agents and/or authorities)
Real-time information on developments in the situation
Optimisation of resources and costs (elimination of unnecessary interventions/callouts, reduction in the number of calls, etc.)


Remote control of entrances and exits
Video identification guarantees reliable and secure remote access control and door opening, 24 hours a day.
In the event of an incident, the situation is immediately analysed by video and the necessary measures are taken without delay.
Key benefits:
Remote opening of means of access by the operator after visual checks and identification
Cost reduction
24/7 surveillance
Remote support and detection
As part of our remote support service, we detect any hazards in the area, and monitor staff and visitors via cameras until they arrive at their destination.
Key benefits:
Deterrent effect on potential attackers
Better protection and peace of mind for staff
Prevention of incidents with potentially costly consequences
Virtual video surveillance rounds
Our services range from stationary object surveillance to complex virtual video surveillance rounds.
These video rounds take place outside the usual entry and exit times.
Random video rounds during the most sensitive hours, for example at night
Cameras installed in strategic locations
Ideal for temporary or unequipped sites (events, warehouses, open storage, railways, building sites, etc.)
Proactive security presence ready to intervene 24 hours a day, 7 days a week
Key benefits:
Increased security thanks to more frequent video rounds
None of the costs associated with conventional rounds
Flexibility: a solution that can be adapted to any environment
More frequent patrols possible: increased security
Technological alternative to a patrolling officer
Remote perimeter protection
Today, we can remotely monitor any vulnerable area using smart cameras equipped with video analytics.
The technology analyses the behaviour of individuals, vehicles and objects: any unusual activity triggers an automatic alarm.
The operator handles the case remotely and acts on your instructions.
Key benefits:
Effective prevention and detection,
Reliability of installations,
Better visibility of site activity
Telephone helpline
On request, our alarm control centre also provides 24/7 telephone hotline services. Our operators are specialised in understanding and quickly resolving a wide range of situations
This service is suitable for busy reception areas or when staffing levels are low.
All the details in our dedicated brochure here.
Key benefits:
Multilingual operators specially dedicated to this service
Fast service, call number available at all times
More effective interaction with customers, employees, or partners
24/7 secure environment
Redundant infrastructure
2 SOCs - Security Operations Centres
Protection for lone workers (PTI) - Switzerland
Protectas provides a compact device, connected to our operators, ensuring the confidence and safety of lone workers, even in isolated locations.
When lone workers work alone, out of sight and out of earshot, they are exposed to specific risks. In these situations, the employer is liable. Even with health and safety measures in place, accidents can still happen. The SECO prescribes that isolated workers must be able to call for help, in particular via a monitoring system.
Our PTI solution is essential: a simple press of a button or the automatic detection of anomalies, such as an impact or a fall, sends an alert to the Protectas Security Operations Centre (SOC). It operates according to the established procedure, 24 hours a day, 365 days a year. The GPS beacon can be used to locate the worker.
Key benefits:
Scalable technology for lone workers
Constant connection to our alarm centre
Detection of falls or impacts with instant alarm
Automatic call for voice verification
Rapid intervention by our agents