Our mission
As part of an international group that is a world leader in private security and a pioneer in the integration of technological security, we offer a unique service in Switzerland, with the entire security chain under one roof.
Our values
Protectas is the brand with the 3 red dots, recognisable throughout the world and in Switzerland by its logo. Since 1958, the three red dots in our logo have symbolised the three fundamental values that guide our actions and that we carry with pride every day: integrity, vigilance, and helpfulness.
Integrity
Protectas employees are honest. We do not compromise on their integrity and reliability, and we insist on their right to openly express their opinions and share their concerns.
Vigilance
Professionalism means observing, listening, and evaluating. Protectas employees are on constant alert. This is how they protect people, premises, and customers' property from any danger to which they may be exposed.
Helpfulness
In the event of an incident, and in our aim to help make your environment a safer place, Protectas employees are always on hand to provide assistance, wherever it's needed.

Our purpose

Since 2019, our purpose 'We help make your world a safer place' has united us and guided us in everything we do.
Our security expertise
We have been a major player in the Swiss economy since 1976. Our mission is to protect people and property against intrusion, theft, fire, and any other risk of any kind, by providing a complete offer of integrated security solutions including the latest technologies.
We offer companies of all sizes and in all business sectors security solutions that include on-site or remote surveillance, electronic equipment (cameras, video surveillance, biometric access, etc.), risk management, training and reception/telephone switchboard services.
Monitoring on site
Rounds and patrols
Airport security
Technology and solutions
Workplace safety and fire protection
Enterprise risk management
Protectas in figures
Sales of €230m in 2022
33 sites in Switzerland
4,000 employees
2 Security Operations Centres (SOCs)
200 vehicles
4 training centres


Societal and technological watch

In order to offer the very best in innovation, we constantly monitor the main global trends impacting on security:

Sensitive infrastructure
Digital transformation
Globalisation of the economy
Societal tensions
Urbanisation
Annual report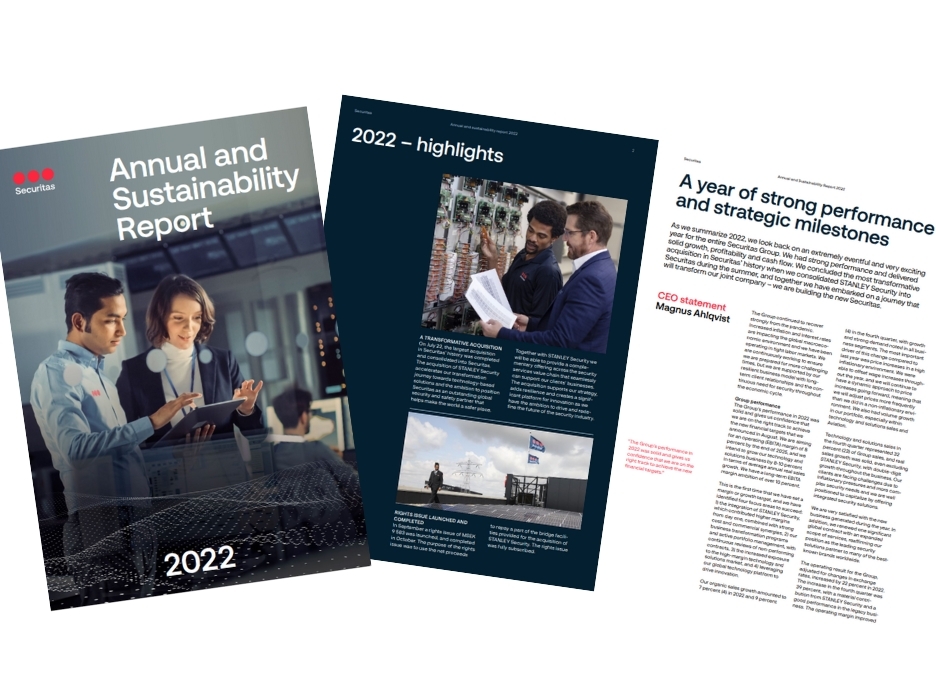 For more information on the private security sector, our performance and strategic vision, please consult the Group's Annual and Sustainable Development Report 2022.
Our history
Protectas was founded in Lausanne by Pierre Rochat in 1976. In 1990, Protectas founded the first school for security guards recognised in Europe. As pioneers in this field, we were already training 3,500 employees (in France and Switzerland).
Protectas has been part of the Swedish Securitas AB Group since 1992, with its international headquarters in Stockholm. We are proud to contribute to the safety and well-being of people all over the world.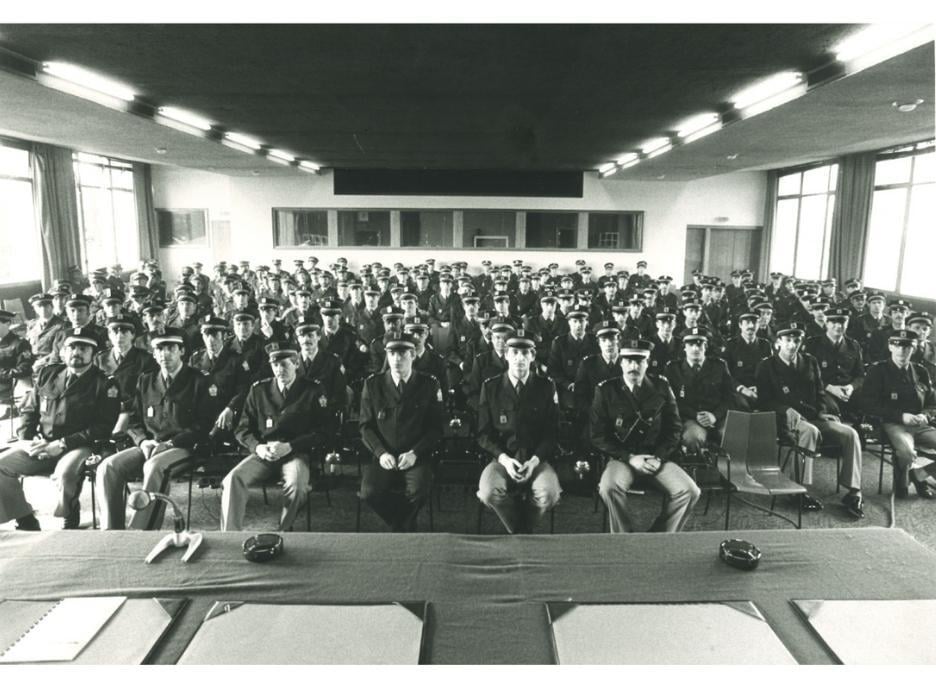 World leader
Founded in Stockholm in 1934 by Erik Philip-Sörensen, our group has become the No. 1 provider of security services:
now present in 45 countries across North America, Europe, Latin America, the Middle East, Asia, Australia and Africa.
more than 358,000 employees
over SEK 133,237 million in sales in 2022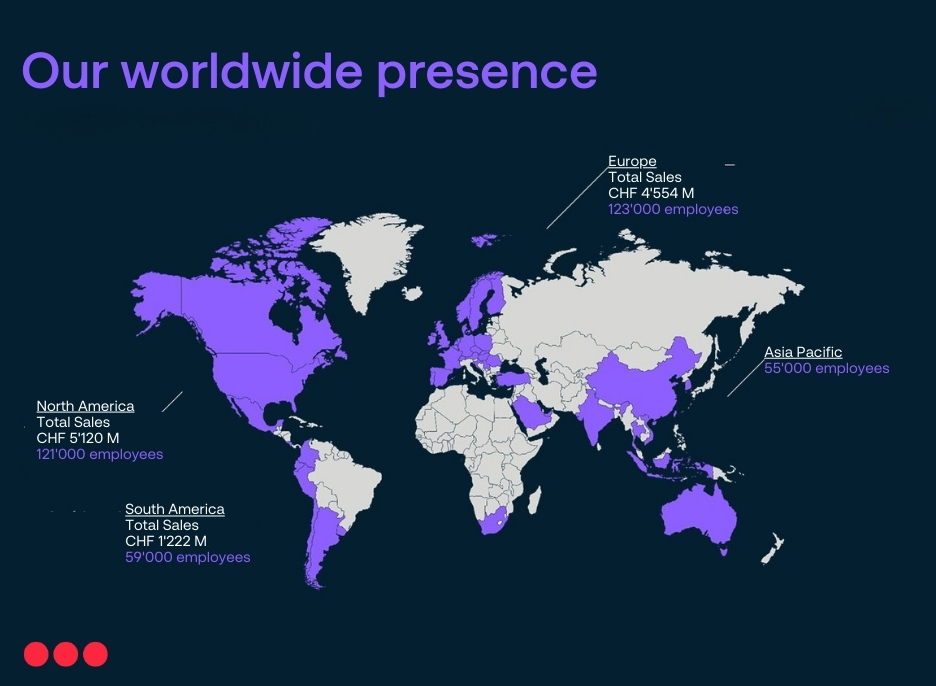 1991 - Initial public offering on the Stockholm Stock Exchange (NASDAQ OMX Stockholm). To find out more about our actions: https://www.securitas.com/en/investors/
1992 - Acquisition of Swiss company Protectas.
2022 - Acquisition of STANLEY Security and Healthcare and acceleration of the company's transformation towards technology-based solutions.
This new decisive step clearly demonstrates our ambition to position ourselves as an exceptional global partner in safety and security, helping to make the world a safer place.
2023 - In Switzerland, the merger of our electronic security entities (SafeHome and Stanley, now Protectas Electronic Security) gives rise to Protectas Technology.
To find out more about the group's history: https://www.securitas.com/en/about-us/our-history/
Our toolbox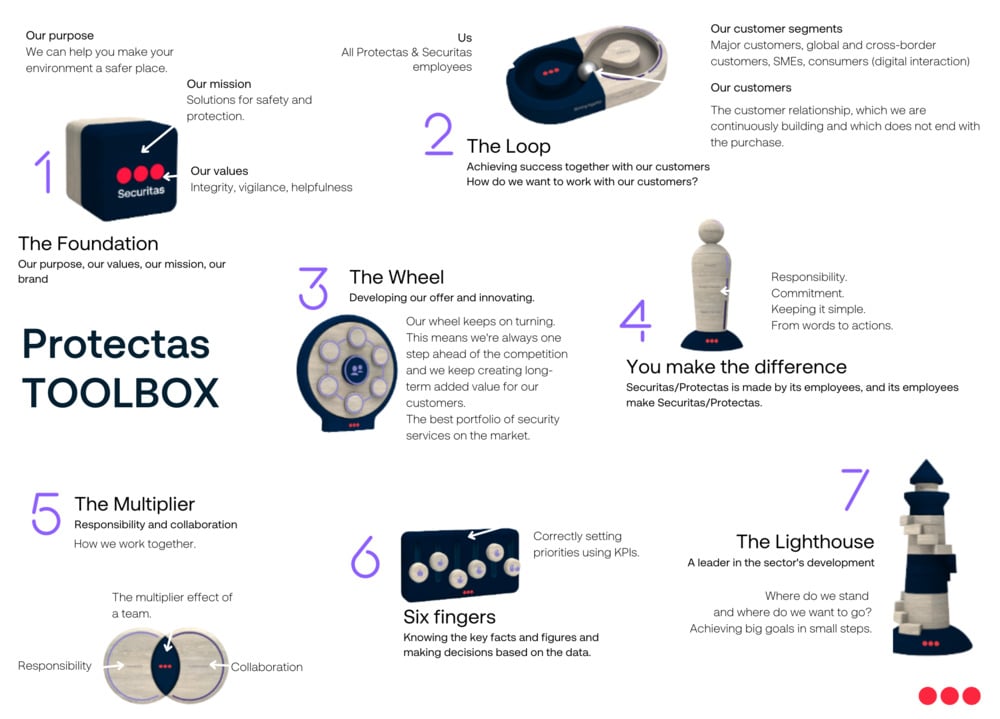 Part of our DNA, our toolbox has been around for more than twenty years. It is made up of seven internal tools that guide us today to help us realise our ambitions and dreams for tomorrow. Using these tools, we will work together to understand:
Who we are
How we work and serve our customers consistently
How we interact with the world around us
Each tool represents a fundamental principle that we live by, every day.